Back to SixAroundTheWorld
*Taipei Y2K*
Taiwan'98 | Taiwan'99 | Taiwan'99 II | Oz | Taiwan'Y2K | My 30th| Thalie Theatre
Most recent report | Archived reports

Other Asian Links [an error occurred while processing this directive]
---

Like most big businesses in Taiwan, those with a good few thousand staff, Hess has an end of year 'wei ya', a show or banquet to thank the staff for the work they've put into the past year. This wei ya was obviously enough not at the end of the occidental year but at the end of the year according to the Chinese calendar. All in all there were a good few thousand Hess employees who turned up for the show which comprised of a lot of talks by company bigwigs and politicians and awards for long serving teachers like Gary (below)

Of course after such a prestigeous event we have a good excuse to go down to one of the local hostalries for a few bevvies. Above you can see Elliot above Gary, myself and Dan Stern at 45's on Ho Ping East Rd.
Again, still at 45's we have below Roseanne Cerello squeezing into the shot and unerneath Michelle. Next is a friend of Michelle's, and then Ben, Dan's brother. Again we have Gary and myself.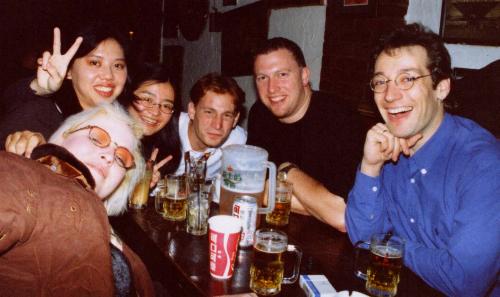 ---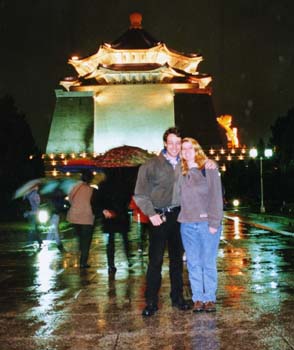 In February the end of the Chinese New year is heralded with a lantern festival when elaborate lanterns illuminate the streets. These pictures where taken when Christie and I went to see the lanterns on the last night of the lantern festival at the Chang Kai Shek Memorial Hall. This shot to the right was taken from the north entrance and the short below was taken from the main Hall in the direction of the main gate.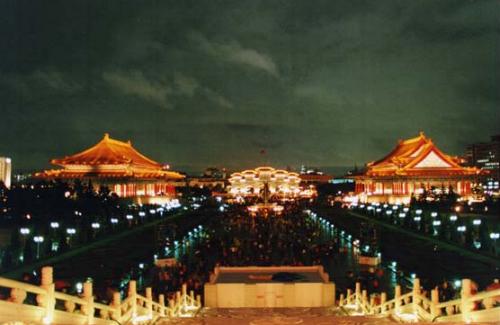 ?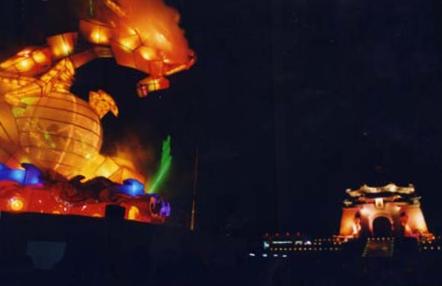 This year (2000) is the Chinese year of the Dragon so the main theme of the lanterns this year were dragons. The dragon you see above is the Golden Dragon illumintated from within and changing colour constantly in time with music.
It really was an incredible sight to see and left the crowds gasping.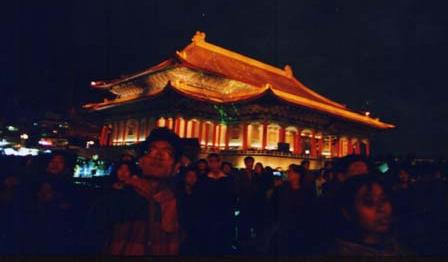 ---
---
Postal address:Hess Language School,Hoping E.Rd. Sec.2 No.49-1,Fl.2,
106, Taipei, Republic of China.
rob@sixatw.zzn.com
Toll free voicemail (US only): 1 877 838 6859
---