---
<!C----------intro------------!>So I eventually got here on June 24th after a couple of days in London, staying with Jerome and Anthony and Tracy Loftis, and also after a couple of days hanging about in Hong Kong.

I'd arranged through E-mail to stay a couple of days at Coral's place in Taipei. Now although we'd met on my brief visit here last year and Coral's seen my photo on the website we were still unsure about recognising each other especially as I'd met Prune, a Chinese language student from Paris on the flight and Coral was looking out for someone on his own looking a bit lost.

When I arrived at Coral's place I met Ginger, Coral's landlady (sporting the green jacket in the picture below). Ginger tweaked (twisted) my arm to take a class for businessmen for the Japanese Toyota company, two morning's a week. I was a little unwilling to make any commitments at first because I wasn't sure that I'd be staying in Taipei. But after my trip to Taichung I accepted her offer and until Christmas I worked with a nice group of people on Wednesday and Friday mornings.

Before leaving the UK I'd put up an announcement on Dave's ESL cafe about my impending arrival in Taiwan and received over twenty replies from different schools requiring my services. So the first step was to check out some of these schools. So on my first Friday in Taiwan I took a trip down to Taichung which is in the middle of taiwan close to the west coast. I saw a few schools there which really impressed me such as those run by Mike Weatherly and Rogan Maloney. Unfortunately Taipei won me over as I already had quite a few friends here who I'd like to stay in touch with such as Coral and Gibble.

After coming back to Taipei I moved into the Happy FamilyII Hostel which is where I met Coral and Gibble last year. It's a nice place with a really good atmosphere as many of the inmates... sorry, Guests are in pretty much the same situation. They've just recently arrived or are just passing through. I spent a week in the dormitory on the second floor and met a whole load of really nice people (I hope to get some photo's soon.) It's actually a good place to be as you can learn about Taipei and the way things work very quicly from the expats who are there and are already in the know.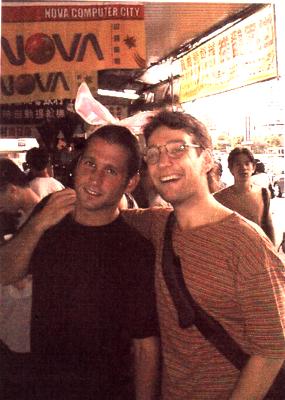 Here's a photo of myself with fellow Brit Steve Gez, who was just visiting Taiwan on his tour around Asia. While checking our e-mail (free on the third floor of Nova computer market) we chanced on a demo of a new laser printer at the market. So the photo is actually a scanned image of a laser print.
About a week after arriving in Taipei I decided on which Chinese school I'd study at so now I studied Chinese at CLD for ten hours a week for four months until December. It's a little expensive but it was worth it to get a lot more practised. Even quite early into studying I could see the difference in my spoken Chinese. Below you can see a photo of some of the students and teachers from CLD on a trip to one of the mountains that surrounds Taipei. Our teacher's name is Yi Jing and she's standing second from the far right. Most of the student's are from other classes and other levels.


As?well as teaching English and being an agent for a natural pharmaceutical company, Ginger also arranges Chinese craft classes taught in English by Coral to Chinese students. Also in the picture you can see Elise who's French Canadian from Quebec here on a scholarship who?I met in the first few days at the Happy Family. We hung about together and got on really well and I knew she had an interest in Chinese crafts and culture so when I heard about the?craft class I took her along. I guess you can't tell what it is we're holding up but they're Corn Cob Keyrings made out of cord (Try saying that after a skin full.)
It was a lot of fun and although the corn-cob key-ring I was making turned out more like a golden carrot at least I had the opportunity to meet more Chinese people. In the picture you can see Ginger on the far left (yes, I know she isn't ginger!) and next to here in the blue top is Coral and then in front of them are Elise and your's truly. Behind us are Coral's students Jerry, Ann, Tammy and Cheryl.