Back to SixAroundTheWorld
Taiwan'98 | Taiwan'99 | Taiwan'99 II | Oz | Taiwan'Y2K | My 30th| Thalie Theatre
Most recent report | Archived reports

Other Asian Links [an error occurred while processing this directive]
---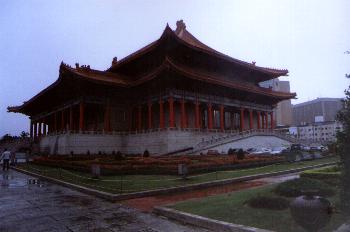 For those not in the know, Taiwan is an island?about 100 miles from the Coast of Mainland China. It was formally named 'Formosa' by Portuguese explorers who came across the island and were so impressed by its natural beauty. English is spoken by some, but not all, the local people but the principal language is Mandarin mainly due to the mumber of mainlanders who fled the communists after the civil war in China earlier this century. Also spoken by many people with more local roots going back further into the island's history is Taiwanese which is a form of Hokkien Chinese.

I first came to Taiwan back in 1998 just on a long weekend from teaching in Taiwan. I met a couple of people from that trip who were very helpful to me when I cam back in '99. Unfortunately I didn't take many photos of the people I met on that trip. However here are a few photos from my trip that year.

---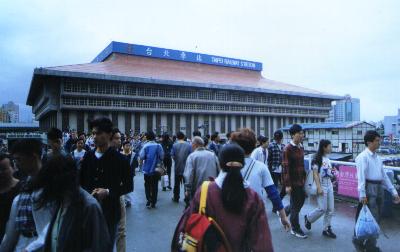 The first time I came to Taipei there was free internet usage at the main station. Although you had to be prepared for queues, and there were no seats it was free! Nowadays the free internet is at Nova Electronics store which is just south of the station, over the road from Mitsukoshi Department Store. Queueing and standing still apply.
---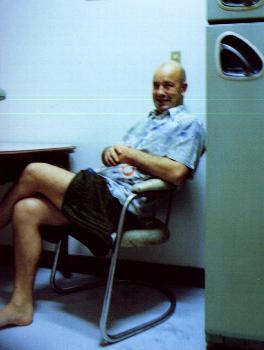 Here at the famed Happy Family II (sometimes referred to as 'the dysfunctional family' or 'moderately content family') it's a sure bet you'll meet someone who knows Gibble (Andrew Gibson) even if Gibble himself is not resident. He's been teaching in Taiwan for a while although at the time of writing he's in Thailand doing a spot of R&R.
Although it's been a while since I've heard from him now (March Y2K) we kept in touch via e-mail (God bless e-mail) during 98 and throughout 99 up until and after I returned to Taipei.
The Happy Family II is quite unassuming and almost hidden in Lane 56, Chung Shan North Road. The manager, John Lee is friendly and accomodating, yet many note he fusses a little frequently about lights being left on while not in use and noise in the hostel after 11. I however admire John's generosity toward travellers here and recognise it's not an easy job. The Hostel is a cheap alternative to the larger Hotels and is definitely useful for longer stays when initially settling in Taipei. I spent five months there in '99 when establishing myself in the city.

---
As in many Asian countries you can find people exercising in different ways in the public parks. Here's a student of Kung Foo under the watchful eye of his si-fu.
Just as an example to what I want to achieve with this web-site I received an e-mail from Jim Saddler, who I'd never met, after he received a misdirected e-mail to another Taiwan traveller and his cool-list. Jim had checked out the site, the address of which was at the end of my e-mail signature and went to my former and badly informed page on Taiwan. (This is the same page, I've just corrected some errors, slightly reformatted and updated it.)
Anyway, here's what Jim had written in his e-mail:
"Anyway, just wanted to say I enjoyed visiting your website. Broke up my working day a bit, and seeing the Gibble photo was a funny coincidence (say hi from Jim from England if you see the old dog). As was seeing the photo of the kung fu sifu Xiao Pong (who I studied with in '97). Unfortunately he died in a scooter accident 3 months ago.
Well...back to the old grind.
spam e-mail....doncha just love it?
So, from a misdirected e-mail from someboy who had had us both on his e-mail list, I hear from somebody here in Taipei and I get to know about somebody I casually took a photo of in '98. Definitely I believe that there is more to it than just coincidence.

---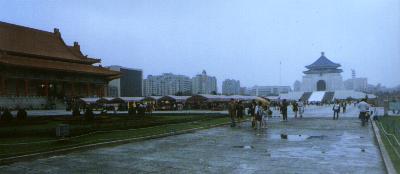 The weekend I visited Taipei it was raining which is, as I've found out since, only?to be expected. Obviously this does affect lighting conditions for photos (that and the fact that at this time I was still learning how to use my new manual camera.) Here's a view within the Chang Kai Shek Memorial looking towards the main gate.
---
Military marching has fascinated me since I was a young lad watching my dad marching as drum major in the Athol Pipe Band. The constant marching and saluting of the guards at the Sun Yat Sen Memorial Hall is highly impressive.
---
Click here to return to main home page.
Please send any comments or feedback to

six_a_t_w@hotmail.com
Last updated March 24th Y2K - Created using Composer by Rob Price.