Here's the crowd I'd see almost every night at Manoli's in Lindos. It was really nice to find a place that was so friendly after I'd run into a few problems only a couple of days into my holiday in Rhodes. This particular problem involved a bar, a few beers, an over-reactive, obnoxious South African, some choice words (and deeds), a high speed collision in the vicinity of my fist and a visit to the local Constabulary. The nice policemen (Efharisto Mr. Giorts(George!?)) were very sympathetic so officially there was no harm done, just a bruised South African pride (and cheekbone). Unfortunately I'm not quite sure how to spell Giorts' name but I am really grateful for the drinks he bought me later that night and given the chance, would like to publically thank him. We went to a couple of bars and Manoli's was the last call of the night. There's a great atmosphere there and while I was there it was busy every night. The bar staff are definitely kept busy and this could account for the odd discrepency in drink prices (once in a while - so check your change) but this is more than made up for once in a while when it was drinks on Manoli. Manoli is the owner and like a captain will go down with his ship you could tell that Manoli was a full time captain. Each night we'd see him in his bar more tired (can I say knackered on the web?) than the previous one. In the photo above you can see Manoli on the far left, and then, a whole crowd of other people some of whose names I've let slip in the months since seeing them (big slap on the wrists). Next to Manoli are Irene Ray, Ken Wholmer and Irene's husband, Mark, who works for a large well-known retail company, shopfitting in the four corners of the globe. Next to them are Bill Longhurst, in the red shirt surrounded by Debbie and Andy Ralph from Hull whose parents are behind them and in the far right we have Pete Ralph also from Hull and his wife Jules.
---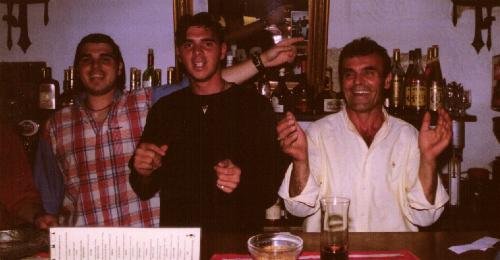 Here are Manoli and two of the guys who work there behind the bar! Unfortunately the two guys' names have escaped me so I'll ask around those who were at Lindos this year and see if they remember.

Thu, 6 Sep 2001 From Charlie Graybrook

Interesting to see your photo's of Lindos. I agree it is a superb place! I spent five summer seasons working and living in Lindos, I even recognise some of the locals in you photos(the pic of Manoli with two local guys are his sons, one is called Stephanos, I can't remenber the younger one ). Do you know if the Med Bar is still there? It is up a side street from Yannis Bar? I had some of the best times of my life working at the Med Bar.

Interesting to hear if you still visit Lindos, if so could you pass some messages on for me?

Thanks
Charlie Graybrook


---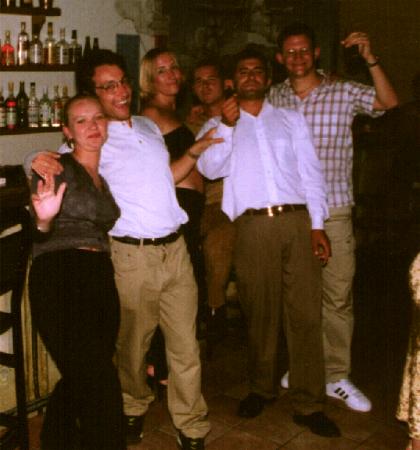 Generally after a few hours with the locals (or at least the regulars at Manoli's bar) we'd take a trip over to Bar Night Life. (I wonder if it was anything to do with the fact that a whole bunch of girls would congregate in Manoli's and then announce to everyone that that was where they were going or maybe because it was close and free!

Anyway in the picture you can see Charlene, myself, a girl whose name I unfortunately know not, Manoli, Chris and Darren.