Back to SixAroundTheWorld.tripod.com
---
ENDGAME

Mi Tsang Cafe
(02) 2351 4796,
24 Chou Zhou Street, (near Exit 6 Kuting MRT Station)

22, 23, 29, and 30
December at 3 and 7 pm.

Entrance NT$250
(+ free drink)

A very Merry Christmas to one and all. I'm sending this for everyone already in Taiwan - for those of you who aren't , that's too bad 'cos you'll not be able to see our new play. Here's a word from an impartial observer, Kevin Williams:
The Thalie Theatre group is staging Endgame, Samuel Beckett's nihilistic look at a surreal place somewhere between life and death, this weekend and next. Endgame finds the viewer in the company of an irascable old tyrant, played by Joyce Chang, who is clinging to the last remnants of power in her bleak domain. Hanging around to share in the misery and wait on her hand and foot is her long-suffering servant Clov, played by multilingual Englishman Rob Price, as well two old and decrepit unfortunates (played by Susan Palm, a Thalie regular, and Kristoffer Lind, both from Sweden) who live in dustbins, and occassionally pop out to lament with disturbing glee the hopelessness of existence, as a bizarre counterpoint to the main protagonist Hamm's crazed bellowings. Later, in a strange twist that adds another layer of weird to the otherworldy atmosphere of the play, she is possesed by a voice from a another realm, supplied by Kevin Willams. The Thalie Theatre group was last in action with Decadence, which also played at Mi Tsang.

You can catch Endgame at Mi Tsang Cafe (02) 2351 4796, 24 Chou Zhou Street, near Exit 6 at the Kuting MRT Station on the 22, 23, 29, and 30 December at 3 and 7 pm.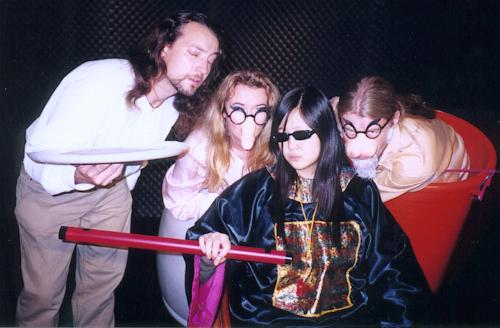 Taiwan'98 | Taiwan'99 | Taiwan'99 II | Oz | Taiwan'Y2K | My 30th| Thalie Theatre
Most recent report | Archived reports

Other Asian Links [an error occurred while processing this directive]
---
Please send any comments or feedback to
six_a_t_w@hotmail.com
Last updated 25/11/2001- Created using Tripod Freeform by Rob Price.
---
Click here to return to main home page. | Click here for the latest drivels.