Back this way for home!
Murder in the Cathedral

April 14th - 22nd, Taipei.

Maurice with Etheral'wings'. Photo by Sonia.
---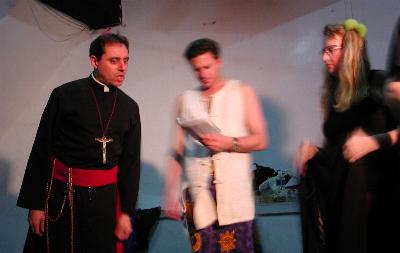 In the middle of April Thalie Theatre, headed by Iceland's very own Daniel Ingi Peturson, took a 26 strong cast and turned T.S. Elliot's "Murder in the Cathedral into something interesting, nay, enjoyable. Why do I take pains to tell you this you may ask, well after my acting debut in Taiwan last year with the Ladder English Company's Childrens' Christmas Show (Photo's here) I was invited by Suzanne Palm (also involved in both projects) to participate in Thalie's production of "Murder". Of course, it would only have to be that I had something to do with it, right? Rehearsals started in February and we performed six shows over the weekends April 14,15 and 21,22. Here are some photos (more to come)
---
"I'm sorry, I'll say that again!" With such a wordy play (commented upon by many of the visiting audience) there was inevitably going to be a slip or two. Here are some of the more noticable ones. (Luckily only noticed by the rest of the cast)
...While the king, wobbling in Anjou...

(Should be'... while the king, squabbling in Anjou...')

... a piece of the wall...

(Should be '... peace or war..')
---
Lines we wanted to hear ("++ ++" denotes our own additional lines)
"Passing from grandeur to grandeur to final illusion, lost in the wonder of his own greatness,

++spinning in ever decreasing circles and dissapearing up his own anus!++"

"I have heard laughter in the noises of beasts that make strange noises: Jackal, jackass, jackdaw,

++Jack Nicholson++!"
---
It just had to be done!
Maurice in the lead role of Thomas Beckett, used make-up to convert a blemish on his cheek into a mole and the mole stuck for the whole six performances. Any ideas what happened on the 6th and final performance? Miraculously the main caracters all developed huge black moles in the same position as Maurice's. (No prizes guessing who thought that one up.) What made it all the funnier (for us, the cast, mainly) was the fact that we entered stage right one after another and when one character left another would enter just a few lines later - each with our own mole. I just regret not having thought this up earlier as I would have created a removable mole that would have changed position each time Maurice turned his back to me. However I just had to be content with my mole increasing in size every time I left and re-entered the stage.
My favourite line and action in my own performance turned out to be when I said my line,"power is present for him who will wield," and I unsheathe a very fine looking sword from my waist swing it wieldingly down onto a bench in the center of the stage where it disintegrates into few more pieces, which fly in all directions narrowly missing the audience, and then as if nothing has happened I sheathe the remains again.
As I said before it was a wordy play and total congratulations go to Daniel for the music and the direction that transformed it into something that most people who know the play wouldn't immediately recognise. Thanks to all our friends who came to see it and we really hope you enjoyed it. We do have the video being copied for the cast, if there's a chance I could put it online, I'll do it but that's not for now.
Taiwan'98 | Taiwan'99 | Taiwan'99 II | Oz | Taiwan'Y2K | My 30th| Thalie Theatre
Most recent report | Archived reports

Other Asian Links [an error occurred while processing this directive]