Back to SixAroundTheWorld.tripod.com
---
---

In these pages I'd like to feature your letters and comments, answer questions etc... I'll start the ball rolling with a letter from Charlie Graybrook's e-mail on my pages on that beautiful holiday destination, Lindos.

---
Interesting to see your photo's of Lindos. I agree it is a superb place! I spent five summer seasons working and living in Lindos, I even recognise some of the locals in you photos(the pic of Manoli with two local guys are his sons, one is called Stephanos, I can't remenber the younger one ). Do you know if the Med Bar is still there? It is up a side street from Yannis Bar? I had some of the best times of my life working at the Med Bar.
Interesting to hear if you still visit Lindos, if so could you pass some messages on for me?
Thanks
Charlie Graybrook
---
continuing the Lindos theme I have here a mail from 'Zoi' dated 25 Sep 2001
Hi, my names Zoi and i have been going LINDOS all my life! i have been workin there recently and have not long been home, i was so happy to see a website dedicated to the place! lindos hasnt changed it never will. i am going back there 2 work again soon. jus 2 say that i love lindos 2, maybe i will c u there 1 day! Zoi xXx
Thanks a lot Zoi, I appreciate your feedback - makes it all worth while.
I was only in Lindos for a couple of weeks in '99 and had a great time there. Best to you and thanks again for writing.
Rob.
---
Here's a mail I received from Dmitri concerning the Athens' students riots of '91
28 Aug 2001
Hey! I just ran into your page because I was trying to find some photos of the riots, since I was in them. The particular poster you are talking about is not indicative of anything, because much anti-government sentiment seems to find its way to protests, even though it may not be the reason for the march. If you want more details, (assuming this matters still), I can provide them. Dimitri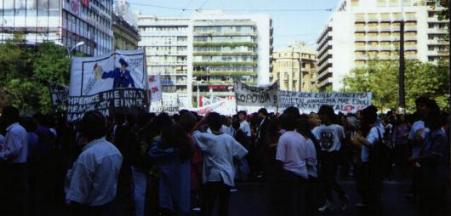 ---
Here's one I received a while ago but haven't gotten around to doing anything about, about a long distance meeting for Tony Goodwin. He sent me this one back in March, Thanks Tony!
Five years ago, in one of the 6 long lines processing to leave Shenzhen, (China side), I looked across to the next line and saw a familiar Chinese face, I couldn't place it at first, but he was also looking long and hard at me. I finally got it!. The owner of the Chinese restaurant in Retford - Nottinghamshire - England! - He had taken several weeks vacation in China. He even remembered my name although I had already left Retford 4 years before.
Tony Goodwin - Banchiao
---
Any more for any more? please feel free to e-mail comments etc..to me here at six_a_t_w@hotmail.com and I'll get back as soon as I can.
Best to all,
Rob.
---
Click here to return to main home page.