Here's myself and Kenny Agbo dining out at my old workplace 'Claridges'. I'd always fancied treating myself to afternoon tea when I'd saved up enough to do it without worrying about the expense of it. Obviously I didn't want to do it on my own so I thought I'd invite an old friend to join me.

Kenny's a talented actor I met while working at Selfridges. We had planned to work together at a summer camp for foreign students in '96 but before the project got off the ground we both got offers with different jobs.
Just before New Years I met Herve from France, whom I know from Claridges and worked as a chef there.
You may find this shot extremely disturbing - and also the explanation behind it. These girls would do so much for a laugh it was unreal (remember I've already mentioned the answer phone messages) and Lucille contacted some lonely hearts columns for a laugh.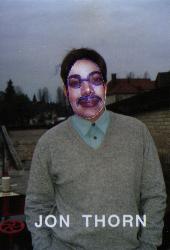 The poor creature under the improvised photo here is one such would-be stud whose ad Lucille answered. I've spared most embarrassement to poor old Jon by leaving Lucille's altered features blue-tacked over as created by Lucie one day. I think it's quite artistic.