One of the many benefits of living within a Korean community in the UK was that it helped me adjust more easily into living in Korea. Here at the New Years party is a group of us playing Yu-na-ri, a board game played with sticks instead of dice, very similar to Ludo.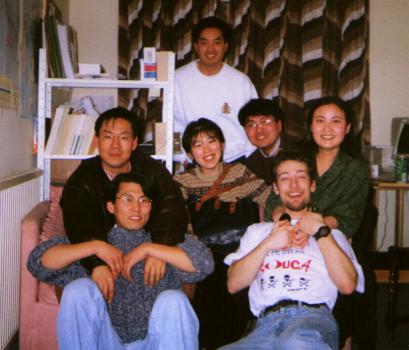 I'm not sure what the occasion was, though I do think it was our house warming after moving into Freetown Court. We did have a few parties and I'm pretty sure that not all of them had a reason. Here's myself with an ever-lovely Chun-Yan behind me, on the right is Peter Lee with in front of him Son-Jae. Over my right shoulder is Aika with Young-Ju to her right but I'm afraid I don't remember the name of the guy at the back.
I know that at time of writing Young-Ju is in Pusan, Son-Jae and aso I think Peter are in Seoul and Aika is in her native Tokyo, but should anyone have any more info please write to mea at six_a_t_w@hotmail.com
---
---
Please send any comments or feedback to
six_a_t_w@hotmail.com
Site created 19th March 1999 currently being overhauled - Created using hey, HTML by Rob Price.
---
Click here to return to main home page. | Click here for the latest drivels.