Back to SixAroundTheWorld.tripod.com
---
Other Grimsby Links

---

It was two years ago, that would be 1999, that I was having a chat with friends in the Happy Family II hostel in Taipei, late one night and the film, Memphis Belle, was on Cinemax or HBO or some channel. Of course being an extra in this movie I was really happy to see it over here in Taiwan. The only thing is that nobody believed that I had been on the set of this movie. No one believed it was filmed on the old airstrip in Binbrook, Lincolnshire, which in fact is only 12 miles away from Grimsby (I know, I've cycled it many times.) And no-one believed that I was an extra in this movie!
I guess you can't blame them, the 'disbelievers', for their lack of faith - I've said it before and if I had the money I'd be serious, "Spot me in the movie - and win a Mini Metro!"

So for all those unbelievers, back from the annals of my photo albums of '88, here's the proof. At that time, I was working at Dial Printers in Grimsby and I'd seen the ads in the paper looking for local talent to be extras on a new movie being filmed at the old RAF airfield at Binbrook.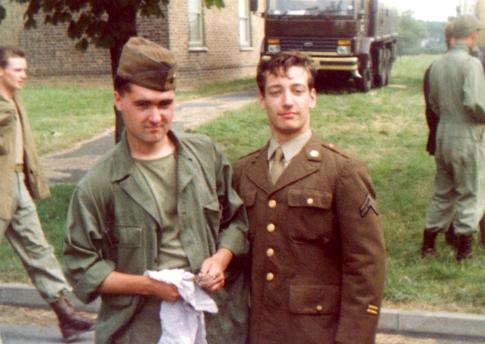 I went along with Mal Roberts and a couple of weeks later we were kitted out (with hundreds of others - I must add) in WWII USAF uniforms. Mally got to wear George Peppards trousers (name tag inside) how many people can claim that bit of fame?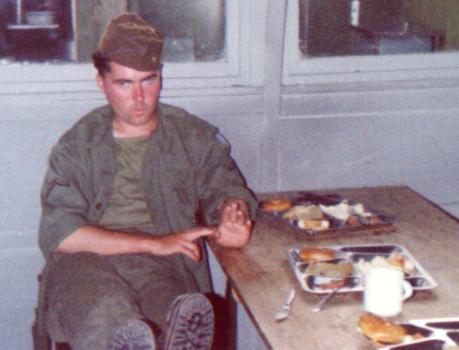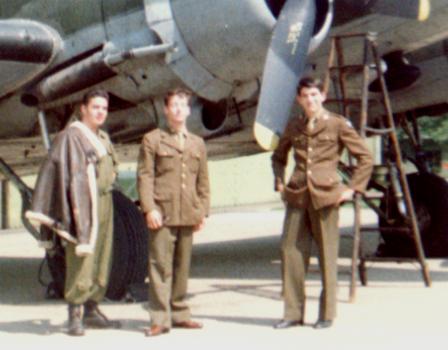 I took a week off work to be an extra and although there was a lot of waiting around it was sure worth it. Down below is a photo of the film's director - David Puttnam and while just hanging around one day sketching cartoons of what was going on, I got talking with Matthew Modine (Dang! No photo!) but what I do have, although not here - back in the UK is Matthew Modine's poem to my girlfriend of the time, Julie. That'll be online next chance I get to go home.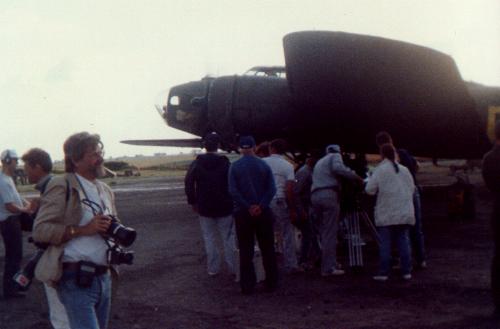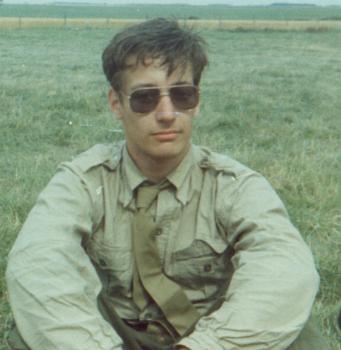 I was given an Officer Pilot's uniform that had to be modified. At the time I was a 40cm chest and a 30cm waist. I couldn't wear my specs because they looked too modern and in one scene the had to do the whole scene again because Steve Drever and I were larking about on bicycles ("What the hell's a pilot doing riding a bike!?")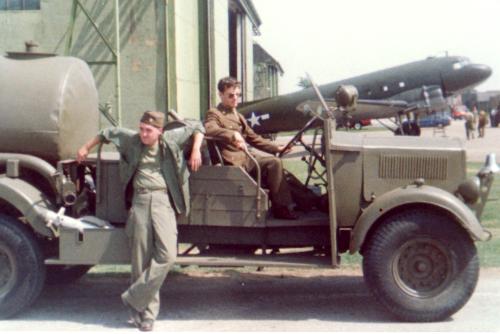 I got to be driven around in a jeep and some of the cast had a chance to fly in one of the famed B-17's until one of them crashed. Very luckily no-one was killed but one guy (an extra) did break a leg. Before that one went down there were 11 B-17's left in the world. Now of course, there are just 10. It was very worrying 'cos I was in the group to go up in the plane in the afternoon.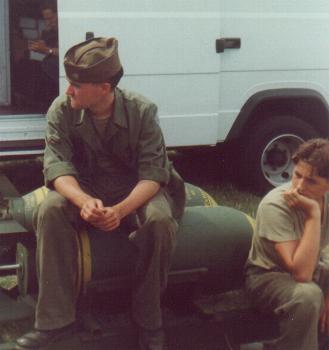 It's a sure thing that David Puttnam will not be working with anyone from Grimsby again. We were being paid GBP25 per day but on the last day (Saturday) a group of guys got together and declared (off their own backs) that no-one would work unless we were paid GBP50 for the last day. There was a lot of waiting for an answer but finally we got wind that we'd be paid 50 if we had to work past 10pm. Time was tight and I should have been taking Julie out but back then we had no mobile phones (in the old days.) I made it back just in time to take Julie for dinner - just. But seeing as I was only making GBP50 a week from my daytime job I don't think I made a bad choice.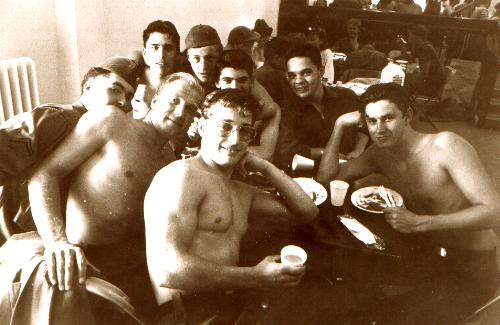 Now, try to imagine my surprise when I received the following e-mail;
To: webmaster@sixatw.zzn.com 
Subject: Memphis Belle 
Date: Mon, Jan 14 2002 7:50:15 PM EST 

Dear Rob - hope YOU receive this email.  I stumbled across your website and 
photos of the Memphis Belle filming by searching thru google.com.

Your were a wonderful extra.  Very handsome indeed.  I want you to know that 
the real pilot of the Belle, Col. Robert K. Morgan, is very well, alive and 
healthy at age 83.  If you really want to impress your friends with your 
photos you can send them to Col. Morgan to be signed for you.  Our address is

175 Lakeshore Dr.
Asheville, NC 28804

We have our own website at www.memphis-belle.com

Linda Morgan
 



Followed a few days later by;
Nice to hear from you Rob.  Are you British???  We will be in England from 
July 9 - 30 this year at three airshows:

July 13 & 14       Duxford quite near Bassingbourn
July 20 & 21       Royal Intl Air Tatoo, Fairford, Gloucestershire
July 27 & 28       Farnborough Airhsow - Farnborough

If you're in the UK during that time we'd love to meet you.  We will be 
visiting Bassingbourn and the Tower Museum there - probably sometime July 
15-18.  

Last November we broke ground in Memphis to build an indoor museum for the 
Belle which was restored and dedicated in 1987.  She has been sitting under a 
parachute type canopy outdoors since then on a man-made island in the 
Mississippi River adjacent to downtown Memphis called Mudd Island.

The exposure to moisture and bird droppings has damaged the wonderful 
restoration job and it is critical to get this plane indoors.

Donations are being accepted now by the Memphis Belle War Memorial 
Foundation, 5909 Shelby Oaks, Memphis, TN  38134.  Phone  901-937-1800.  The 
Executive Director is Brent Perkins.  It would be great if you could mention 
this on your website.

I'm attaching our Preliminary UK Schedule (word document) for you.

Stay in touch.

Linda


More Grimsby Links