Mark Williamson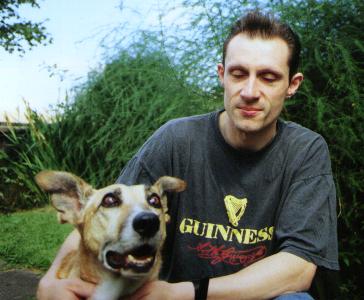 I first met Mark at Grimsby College of Technology. Even though I was studying at the Grimsby College of Art I'd joined the Main site's Drama group and, although he'll threaten serious bodily harm for my mentioning it I met Mark through his loud and outspoken girlfriend, Amanda Leadbeater who was also a member of Drama Group.

The first time we had any kind of connection was on the college's Charity Day when we made our own costumes from paper auto repair shop overalls, stole our parents vacuum cleaner attatchments and paraded the streets dressed as the Ghostbusters. That was eleven years ago. We had a great time that day and our friendship shot off from there.

Unfortunately with my travelling we've not had a great deal of contact the last couple of years and to my disappointment I've discovered that Mark's not the most persistent of correspondants. (ONE letter in the last two and a half years. Blimey, that averages out at four a decade.)

In '93 we took a trip to Germany to escort a spritely 60 year old lady to Muenster. That was a great trip, and it was good to actually do a bit of travelling with an old friend. On the trip back to Holland we met up with a group of travelling Hong Kongese students who gave Mark his Chinese name - Ma Ho Wai Lim San.

Sometimes I've been whisked away to foreign fields by Mark as once he called up at around 6:00 PM to ask if I fancied navigating on a delivery trip to South Wales. Would I! "Great I'll pick you up at ten!", he said. Then I had to explain to my girlfriend, Claire, that I was going to disappear - again!

One time we went clubbing in Sheffield... well we'd originally gone to Lincoln or somewhere and found that there were no big nightclubs so then we drove off somewhere else but ended up hours later in Sheffield. Mark parked his pride and joy green VW beetle in a multi storey carpark. At the end of the night when we were escorting a couple of young ladies home we lost a lot of face looking for over forty minutes for the car. We assumed, rather prematurely, that it'd been stolen only to discover that we were looking in the wrong multi-storey car park.

Nowadays Mark lives in York where he moved to in '95 with his girlfriend, Wendy and their two dogs.

Unfortunately distance has become a barrier (this alongside, as already mentioned, Mark's inability to locate his local Post Office.)
---
Tracy Warren

It was whilst working at BT in Grimsby that I first got to know Tracy, as she's worked there on and off for a few years. All those who know the both of us know our relationship has always been special. She's my soul mate who although disappointed at my constant disappearing is always there for me when I need her. Here she is with her youngest daughter Alicia.

She has three loving kids who are, at the moment, teenagers and who I know will grow into fine, respectable adults although at the moment even she finds herself tearing her hair out.

---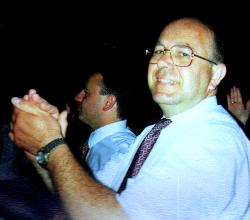 Steve Goodman

As the name implies Steve definitely is a good chap. We met in the early nineties after I'd come home from Europe and started working with Network Marketing. Steve was in the same business and although at first we only ever saw each other through the business it soon became a social friendship. It was one Wednesday when I was waiting to get into the Winter Gardens, Cleethorpes (Yes, it was grab-a-granny night or poach-a-pensioner night at the Winter Gardens) and Steve saw me waiting in queue outside so to the annoyance of anyone behind me I cheerfully accepted his company and we had an excellent night (as far as I can remember.)

In the short seven years we've known each other, Steves found a wonderful lady to share his life with and escaped business failure (an inheritance from his ex-business partner) to become the head of a successful Telecommunications company, Telecom 2000 (formerly BTN).

Our great adventure was going to Spain for the day (which took three days to complete) early in '95. I'd seen an ad in one of the Sunday magazines for a cruise to Bilbao which only cost GBP39.00.

The trip in itself was great for what it was - a great excuse for getting tanked up with lager (which I think we did quite well) as really there wasn't so much to do on the boat apart from sit around chat and drink. We did get into the pictures a couple of times and saw Stargate and something else that was really dreadful.

On the first night I rescued a couple of young damsels from a drunken Norwegian and this was great as Sally and Sandra proved to be great company.

As mentioned before, Steve, after a long time of looking for the right person to fill the gaps in his heart has met Carole, who I can tell just by looking at Steve before and after, is just the person he was looking for. She now helps him run Telecom 2000 and is a great help and support for him. He's a lucky and happy man.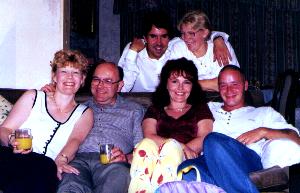 Here's Steve and Carole at John and Dy Carrington's place in '97. On the right are Carole and Steve, Behind the sofa are Colin Willden and Dy Carrington, and next to Steve and Carole are Carl Bacon and his girlfriend.


---
Maurice West
I first Met Maurice when I was living in Binbrook with my ex-fiancee, Claire. As the small village in the Lincolnshire Wolds was twelve miles from Grimsby I had two choices, I could cycle or I could walk. Often I cycled but sometimes when I took the bus (which runs twice a day) I'd meet this friendly gent - usually on a Tuesday or a Friday, to do his shopping or have coffee in Binns with his friends Jack and Betty.

Anyone who knows Maurice will know his humour and his generosity (from which I've benefited many times while in Korea.) When we have the good fortune to meet we talk on any subject from languages to Germany (where Maurice worked as a young man) to Netsuke (Japanese sword ornaments) to women. For our friendship age is not a factor. (This kind of comment struck a note of discord with my students when I was teaching High School in Korea.)

Maurice is a keen photographer and passes on lots of helpful information and, to my constant surprise and gratitude, photographic books and equipment.

Maurice and his wife Averil moved to Binbrook about ten years ago from their native Norfolk. Although they're not from Binbrook I think they've been welcomed into the local community for their pleasantness and active approach to the community around them.
---
Please send any comments or feedback to six_a_t_w@hotmail.com

Last updated 04/04/1999 - Created using Notepad and Composer by Rob Price.