Nanna & Grandad Burns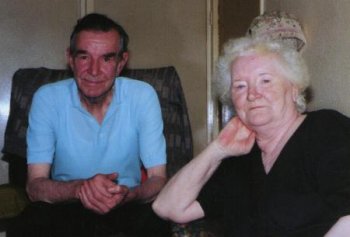 Here's my Nanna and Grandad on my mum's side Terry and Iris Burns.
Although Terry is not my blood-line Granfather, as my mum's real dad died when mum was thirteen, I've grown up with him as my Grandad. Nan has been very unfortunate as she was widowed twice before.
Altogether my mum grew up one older sister, Sue, and three younger sisters, Julie, Christine and Debbie and a younger brother, Terry.
---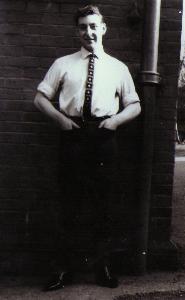 Dad. Stanley Jack Price
Here's dad in his glory days complete with drainpipes (I'm talking about the trousers.) He was born on the 3rd March 1946 in Grimsby.
At the age of 15 he left home to join the army due to domestic difficulty with his father (It's funny how history repeats itself.) While stationed in Wiltshire he met and married his first wife, Kay. The marriage did not last however and he returned to Grimsby in the late '60s leaving behind two children, John and Kim, my half brother and sister.
After returning to Grimsby and working at the Birds Eye frozen fish factory he met my mum and the rest, as they say is history.
He now works at the Connoco chemical plant just outside Grimsby. Previously he'd worked at Peoples Park in Grimsby, on parks and lighting for Grimsby council and was head gardener at Courtaulds Chemicals, Grimsby until the factory put most jobs out to contractors to save on wages.
His hobbies are gardening and woodwork. He is extremely dextrous and able to create amazing things with basic materials.