As embarrassing as this photo is it does show some people from a group who were rather influential on my early life. I'm not even going to indicate myself on this picture although by process of elimination I'm sure you can pick me out. On the left is Letty Carr, and second from the left is John (although his surname escapes me.) The lady in the green dress is shadowed by one of the Nelson bros. (Richard he's not.) The lady in the blue dress and wig is Lorraine I think and she's flanked by Idris Hughes.
At the age of 14 I wanted to channel some of my creative energy into the performing arts. I was way too young for local 'bigwig' drama society so I was happy to see a smaller local drama group advertise in the local newspaper.
So in 1984 I joined the Old Winghams Drama Workshop and so started an association with people older than my age range that started a trend for my life and how I was to form my social interaction.
I met and made friends with many people over the four years I belonged to the Winghams until unfortunately the Workshop was disbanded in 1988 due to falling attendance.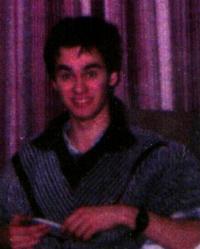 One of the memorable friendships that survived the breakup of the Old Winghams was with Mike Asher and I had the pleasure of being at his wedding in '93 to Claire. Unfortunately, as he moved away many, many moons ago I have no idea where abouts he is today.