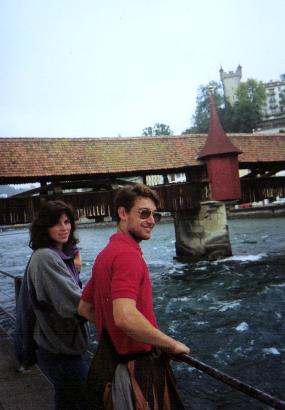 Pictured above with us here is a young lady called Tatjana Heim who we met in Lucerne and here is a shot of the two of us looking out at one of the famous bridges at Lucerne.
Unfortunately I never did find out much about her although I think Sigvald did keep in touch for a while.
Well, just check out how surprised I was that nearly three years later, February 8, 2002 I receive this e-mail:
wow, what a surprise!
just for fun I take a search machine end enter my name and I find pictures of myself in lucern a long time ago. I didn't even remember, only now... what are you up to today? I'm a teacher and an actress