My good man Steve Goodfriend ... or rather good friend Steve Goodman and I decided to duck out of the high life of Grimsby for a few days and take a day trip (Believe it!) to Bilbao, northern Spain in March of '95. I'd seen the advert somewhere and the trip was ridiculously cheap so 'wayhey!' and off to spain we went.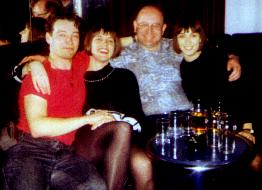 The trip itself consisted mainly of drinking and looking at the sea so we were highly thankful for the chance of company (especially female company) when I rescued a pair of girls who were being unsuccessfully 'chatted up' by a drunk Norwegian.
At first, as the girls were speaking German, I mistook both to be German, however although Sandra Kosanke (far right) does come from Germany, Sally Northeast (second from left) is a reporter from Bournemouth.
Understandably my Bournemouth / Pensioner city jokes went down like a lead balloon but notwithstanding a good time was had by all (As can be seen from the photo below).
Later in the year I'd just seen Li Aguiar off at Heathrow on her way back to Brazil and was walking towards a coffee bar at the airport when through the crowds came Sandra walking completely in the opposite direction in a straight line towards me. We sat and chatted for a while but there was absolutely no reason for my sudden craving for a coffee (not at airport prices) save for the invisible forces that often bring us together time and time again.
Click here to return to the Europe menu

---
Please send any comments or feedback to six_a_t_w@hotmail.com
Last updated 30/12/98 - Created using Notepad by Rob Price.