Friday 13th March '92 - I'd hitched a lift with two Canadians from Perpignan and we'd all met up again with Lisa and Jane at the Youth Hostel in Nice. So after a day of looking around Nice a large group formed in the dining room and Conrad, a well built American, 'borrowed' a large cooking vessel from the kitchen into which we emptied three litres of Sangria, 1 bottle of vodka, 1 bottle of table wine plus copious amounts of fruit.
Thus named 'Jungle juice' we drank chatted and it wasn't too long before I was drunk enough to flex my arms for a young lady named Shane Bondi. Lest be said I was completely out of my face and I made the bright decision to call Mark Williamson in England, my best mate in the world. Unfortunately all he received were my drunken babblings and 'Mark, Mark! I've been on the jungle juice!'
Now the hostel curfew is at 12:00 and somebody had the bright idea to go out at 11:30. The Youth Hostel is located high on a mountain side and there are no direct routes from the town. You actually have to take a large zig-zag route up the hill. We did walk for ages which I thought would clear my head but unfortunately did not. Eventually we reached a bar and I promptly fell asleep.
On awakening I had a sudden urge to... er... clear my head which I did outside in the flower beds.
It was at this time that I thought I should make my excuses and leave, which I did. For an unknown amount of time I was walking in completely the wrong direction but once I'd righted myslelfit took next to no time to find my way up the hill. Once I'd reached the hostel I realised that no-one was awake and a short while later I realised that no-one had the intention of getting up to let me in.
Only ten minutes later I recognised Nicks dayglo jacket coming up the hill. I'd anticipated the other guys being here first as I'd wasted so much time walking in the wrong direction. My elation at their arrival was soon quashed to discover that Corey had the key and he had become seperated along with Shane from the main party. Hmm, I do wonder why!
Feeling a tad more sober now I climbed a streetlight to a balcony on the first floor and knocked hesitantly on the french doors. The occupant was an American with his head on upside down (for those of you who don't know this expression, he was bald on top but had a hairy chin.) He was less than accomodating and told me to get the f*** off of the balcony. This did not please Nick and Conrad down below who let their views also known.
After waiting what seemed an age I climbed the back fence to find that the back door was not only unlocked but in fact - wide open. I entered the hostel and amazed the others by talking to them through the letter box only to tell them that a key was needed for the inside as well. However I did go into the dining room and unlock the windows letting everybody climb in. We did get to sleep about 3:30, at long last.
Taize

During my fourteen month relationship with Julie Lester back home in the UK I'd heard a lot about Taize as Julie visited quite often. Taize is a retreat near Cluny and is multi denominative. So people from all over the world from all religions can come, meet and worship their god whichever form this may be.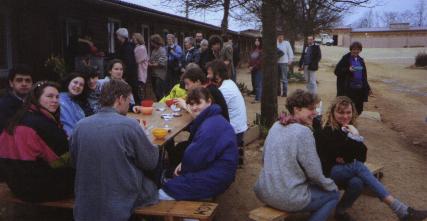 Before I arrived there I didn't really know what to expect as Julie hadn't been overly lavish in her descriptions.
I'd been hitching for about four days solid and I was completely exhausted when I arrived at around 12:30 on Wednesday 18th March '92. I was just in time for midday prayer and then lunch. There are prayer meetings before every meal and the evening prayers are breathtaking with hundreds of candles illuminating the hall.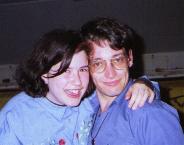 I latched onto a group of Germans and especially a young girl originally from the middle east, Eva Weissmann from Hamburg. We all spent a lot of time together which was great both for me and my German as I hadn't had the chance to visit Germany since the previous year.
We were invited to different discussion groups and, although really it shouldn't have been, the most memorable was with one of the brothers of the community. he related a time when he was invited to speak at a Womens Institute meeting and one of the ladies asked him how he dealt with sexual abstinance. He replied,"Have you never heard of masturbation?"
---
L'Auberge La Chapelle
L'Auberge La Chapelle was our 'regular' on our field trip to la bas Normande in 1994. There was a lively atmosphere which perhaps was dragged in by our group from second year A-level French at the Grimsby College of Technology.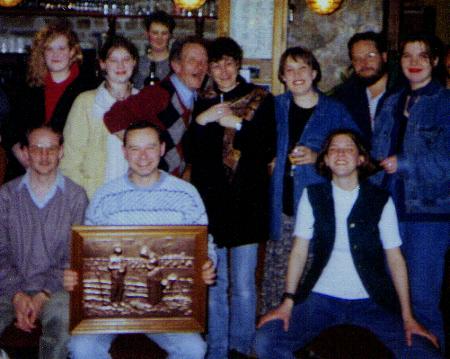 Our 'soiree' is composed of (rear left to right) Natalie, Lisa, Maurice, a local who has just given the brass plaque as a souvenir, Jill our Tazmanian French teacher, Emma Craven, Wayne Love and Frances Hewitt. In the foreground is Emrys Babb, Keith and Karen. Behind them all is the Landlady (the landlord being too shy to appear on camera) and There's definitely something wrong with this picture. Ah, yes I'm not in it! I'm taking it.
---
[an error occurred while processing this directive]